A Letter to my 21 year old self...
Dear Becky,
You don't know this now, but you will look back on this time in your life with great joy. Your 21st year will be one of your best ever!
It starts on your birthday. It's your sophomore year of college at Moody Bible Institute in Chicago. Your roommate will throw a party for you on Houghton 1 and you will spend most of the night looking over the heads of your friends for
him
. He will come in at the end of the party, apologizing profusely for having missed most of it.
And you will know. Even when he disappoints, he is the one you want to see. He has changed your life with his guitar playing, his sarcasm, his love of coffee, his ability to discuss theology in a humble way. This guy that you would save a seat for in chapel, the cutest boy in the circle kicking a hacky sack, the one crushing others at foosball- he has won a place in your heart.
It will be a week after your birthday that he will tell you what you already know. He likes you too.
By this time, he has become your best friend. Falling in love happens as naturally as drifting off to sleep in your double bed with the familiar grooves in the headboard.
But don't lose yourself, Becky! You have 2 1/2 years left of college. You will be a Resident Assistant on 9W during your junior and senior year. Your missions classes and counseling classes will teach you a great deal of knowledge that you will no doubt use for the rest of your life.
Enjoy this time! The friendships that you make at Moody will be deep and lasting. The difficult relationships will cause you to grow. The frustrations and stress and all nighters will develop your character and prepare you for motherhood even more then your classes will prepare you for a career.
By the time you graduate, you will be a month away from your wedding day. The lessons learned in and out of the class room, the friendships that you have made, the life experience and falling in love will make the 4 years of college a time that you treasure. Always!
I would tell you not to worry about the small things. To not stress when your boyfriend seems distant. I would tell you not to get upset when you have to get up at 6 AM every Saturday morning to turn off a friend's alarm clock. There is no need to be jealous of others. And don't worry about taxes.
But honestly? As wonderful as your college years will be, the difficulties will also be a part of your story. Embrace it all. Learn as much as you can. Live those years to the full. Be carefree, but also intentional. Listen well to others. Take time to care about the small things. Work hard. Love harder.
You won't regret it.
Love,
Your future self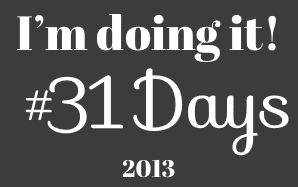 For the month of October, I am participating in the 31 Days of Blogging challenge from The Nester. There are over 1,000 bloggers participating in this challenge on a great variety of topics. I have chosen "letter writing", because it allows me the flexibility to write what is on my heart. And I need spontaneity! You can find all posts in my 31 day series here.