A Letter to My Daughter and Five Minutes on Ordinary...
Dear Lindsay,
You turn 10 1/2 years old this month. And you are no ordinary girl.
I heard you singing this just last night as you watched the last episode of H2O. But you don't turn into a mermaid when you get wet. That is not what makes you extraordinary.
When I came in to wake you up this morning, you were surrounded by books as you have always been since my earliest memories of you. You told me that you were reading all of the epilogues because they are so interesting. But this isn't what makes you extraordinary either.
We named you Lindsay after your Grandma's side of the family and someday, I hope to take you to Scotland to visit our family's castle. But even with this remarkable history in our family, there is no royal blood that runs through your veins. This is not what makes you extraordinary.
It's not your ability to dance in the rain. Your endless creativity. Your crazy intelligence. The way you can sing, play the cello, write and illustrate books. It's not your love of exploration. It's not your exuberance over plots and character traits. None of these things make you extraordinary.
You are no ordinary girl because of who God has made you to be.
He declares you
fearfully and wonderfully made.
He calls you his
masterpiece.
He
rejoices over you with singing.
Oh, my sweet girl, God has made you for a purpose. He has a plan for your life and I have no doubt that it is good.
What makes you extraordinary,
no ordinary girl
, is that you get to explore this purpose and plan that he has for you the rest of your life.
Dream big. Chase those dreams. Continue to explore your creative depths. Don't let others determine who you are or what you are capable of. God has placed something unique and beautiful within you.
You are no ordinary girl!
Love you with all of my heart,
Mommy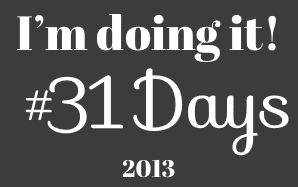 Linking with the beautiful community for Five Minute Friday as we write for five minutes on the prompt "ordinary". Also joining with thousands of bloggers for the 31 Day blogging challenge hosted by The Nester.